This comes as the result of a recent Microsoft – HP deal that will affect all PCs scheduled to be released in the United States and Canada. The deal also specifies that the default search engine on these computer will be Microsoft's Live Search.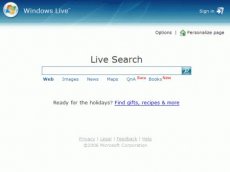 "This agreement with HP is a strategic indicator of our increased focus on securing broad-scale distribution for Live Search," said Kevin Johnson, president of the Platforms & Services Division at Microsoft. "This is the most significant distribution deal for Live Search that Microsoft has ever done, and we are very pleased to be partnering with HP to help bring Live Search to millions of consumers across North America."
Microsoft hopes that this new deal will serve to increase the popularity of its search engine, currently far behind both Google (60%) and Yahoo (20.4% ). According to ComScore's latest report, Live Search handled only 9.1% of the searches.
However, that's not the only goal on Microsoft's list. Users are quick to revert to their search engine of choice and they can easily uninstall or just ignore a toolbar they think they don't need. But Microsoft also aims to grow a fan base for its Silverlight technology. The toolbar will provide HP with customization capabilities within the buttons on the toolbar, providing quick and easy access to a variety of online services and tools, such as HP's online photo service Snapfish or HP customer support.