An old-school tactic to push one's software along some needed updates, some might say. After all, updates and new software bundled with other software less known or less needed have been something common for some years now. (Remember Yahoo messenger packed with the Yahoo Toolbar?)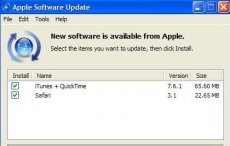 However, that's now the case with Lilly, who lashed out at Apple:
"What Apple is doing now with their Apple Software Update on Windows is wrong. It undermines the trust relationship great companies have with their customers, and that's bad — not just for Apple, but for the security of the whole Web. What they did yesterday was to use their updater for iTunes to also install their Safari Web browser –what follows is some background and analysis."
While Lilly is right up to certain point, there's also the other side of the coin. The update window makes it clearly the Safari is also a part of the pack. More important, users can choose to skip installing the browser, by unchecking the box right next to it.