The disks feature a rotational speed of 7200 rpm and will begin to take their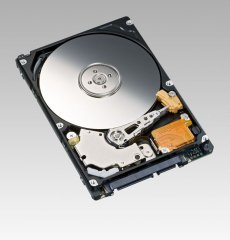 place in stores at the end of June 2008
The series also supports the Serial ATA 3.0 Gb/s interface, which has been rapidly adopted throughout the industry, for high-speed data transfers.
The MHZ2 BJ series requires only 2.3 W of power for read and write operations. The new HDDs are some of the new products announced as part of Fujitsu's Green Policy Innovation initiative, unveiled in December 2007 to promote energy-efficient products.
Also, the drives are manufactured in compliance with the EU's RoHS Directive(3), which limits the use of hazardous substances.
The price for the new devices has yet to be disclosed and most bets are that Fujitsu is still thinking about it behind closed corporate doors.