The new release is marketed as a "true entertainment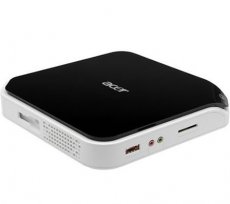 center for the entire family", as it offers access to music, video and images, but can also transmit and stream HD content and be used as a gaming console.
"The Acer AspireRevo with our new NVIDIA ION GPU is a shockingly small home PC," said Drew Henry, general manager for MCP products at NVIDIA. "You will be stunned and amazed watching HD videos, editing photos, surfing the web and playing the latest online games."
Under the hood, the Acer AspireRevo packs together 802.11b/g/draft-n Wi-Fi, Ethernet, HDMI, DirectX 10, up to 4GB RAM, SSD option, Mini PCI Express slot, Windows Vista and the option to VESA mount the device.
The device also comes packed with a game controller with 3D motion sensors offering numerous functionalities: a pointing-device (air mouse) or remote control for the media center.