The tablet will cost a minimum of $2,499 and feature a 1GHz Intel Core Solo CPU, 1GB RAM, 40GB hard drive and 12i-inch screen. The Direct2dell blog lists numerous configuration options, with Flash-based storage (32 or 64GB Solid State Disk (SSD) drives) as one of the most interesting.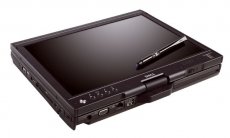 While a good offer in terms of hardware, the Latitude XT will certainly drawn back by its price, which is too high when compared to what the competition has to offer. One comment reads:
"Give me a BREAK. This is on the heals of Toshiba, who announced today a tablet that is not only has better base and fully loaded specs, has pen and touch capabilities as well, but also is a full GRAND cheaper.
Let me say it again just to emphasize: One THOUSAND dollars cheaper. It's slightly larger, and of course doesn't have multitouch, but is that extra cubic inch of volume and half pound of weight worth a thousand dollars to me Dell?"
Dell will likely trim the price a bit before it launches the device. The company has been losing market share and HP has been announced to closer to become the number one vendor in the US, a market that has been Dell's reign for some time. The tablet is only one of the means of keeping the business afloat and launching a product that' bound to fail would only be just another hole in the Dell boat.