The new 2GB model will become available later this month.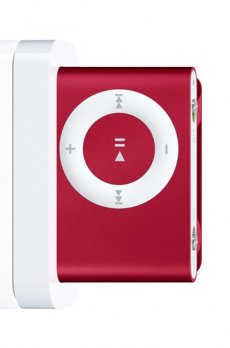 As for the 1GB iPod, the new price tag lost serious financial weights: $30. The device will retail from now on for only $49:
"At just $49, the iPod shuffle is the most affordable iPod ever," said Greg Joswiak, Apple's vice president of Worldwide iPod Product Marketing. "The new 2GB model lets music lovers bring even more songs everywhere they go in the impossibly small iPod shuffle."
The iPod Shuffle comes in five colors–silver, blue, green, purple and a red special edition.
iPod Shuffle tech specs:
– Height: 1.07 inches (27.3 mm)
– Width: 1.62 inches (41.2 mm)
– Depth: 0.41 inch (10.5 mm) (including clip)
– Weight: 0.55 ounce (15.6 grams)