The new laptops will debut as the NR series and will retail starting from $750. Currently, Sony's cheapest offer consists in the Vaio N Series, starting at $949.99.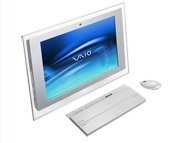 At the other end of the pricing range sit the Vaio TZ Series, with a price tag reading a minimum $2,199.99.
The new entry-level notebooks will feature Intel Core 2 Duo processors, 802.11 a/b/g wireless LAN, 4 USB ports, CD/DVD burning capability, and slots for Expresscards, SD cards and PROTM memory sticks.
The shadow of Vista will not be missed, as the N Series will come with pre-installed with the Home Premium version of the system. It would be interesting to see if Sony will share's HP or Lenovo's most recent initiatives and include a "downgrade to XP" plan with the offer.
Still, there is one question that comes to mind: this is the 10th addition to Vaio's line up. Doesn't Sony fear that having too many models under one name will eventually confuse customers?