The VelociRaptor HDD is the next generation of Western Digital's 10,000 RPM SATA "Raptor" series of drives.
"Demand for ever-higher PC performance continues to increase and WD is the leader in this category with the WD Raptor. We created WD VelociRaptor hard drives to lead PC enthusiasts into the next era of PC and Mac storage performance and satisfy their insatiable thirst for computing speed," said Tom McDorman, vice president and general manager of WD's enterprise business unit.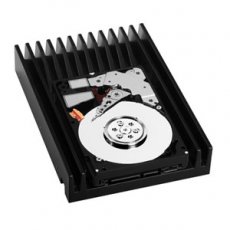 The new 2.5-inch new HDD model comes packed with the following features:
– Killer Speed – Built on the performance of the WD Raptor, these 10,000 RPM drives, with SATA 3 Gb/s interface, and 16 MB cache deliver mind-bending performance.
– Rock-solid Reliability – WD VelociRaptor drives are designed and manufactured to business-critical, enterprise-class standards to provide enterprise reliability in high duty cycle environments. The design results in the highest available reliability rating of any SATA drive at 1.4 million hours MTBF.
– IcePack Mounting Frame – The 2.5-inch WD VelociRaptor drives are enclosed in a 3.5-inch enterprise-class mounting frame with a built-in heat sink that keeps this powerful little drive extra cool when installed in high-performance desktop chassis.
– Rotary Acceleration Feed Forward (RAFF) – Optimizes performance when the drives are used in vibration-prone, multi-drive chassis.
– SecurePark – Parks the recording heads off the disk surface during spin up, spin down and when the drive is off. This ensures the recording head never touches the disk surface, resulting in improved long-term reliability and increased drive protection when the chassis is moved.
The 300GB VelociRaptor HDD will retail for $299.99.