As expected, LG's eagerness to come up with a new model has a lot (if not everything) to do with the release of Samsung's BD-UP5000 Duo HD player.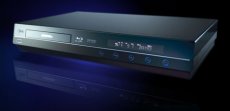 The new model will arrive in stores this October with a price tag reading $999. LG's previous dual-format model was launched back in February and retailed for $1199.
Both BD-Java and HDi support have been added to the BH200, thus enabling future users to enjoy graphical extras and interactive features offered by Blu-ray and HD DVD formats ( Picture-in-Picture was the first to come to mind).
The set of supported AV formats includes MPEG-2, VC-1, H.264 video, MPEG1/2 audio, Dolby Digital, Dolby Digital+, DTS and DTS-HD audio. The 1080p output at 60Hz, HDMI 1.3 and LAN Ethernet port have also been checked on the features list.