At first sight, the new monitor offers basically the same features as its competitors. Its size and maximum resolution of (2560×1600 pixels) are the same as the competition's, while its price takes the middle road. Gateway's device costs $1700, while Dell's 30-inch LCD retails for $1500 and Apple's Cinema display for $1800.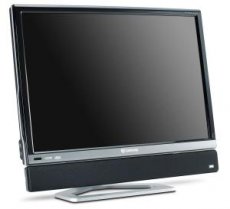 However, the XHD3000 does have a handful of features of its own. First of all, it features more connectivity option than its rivals: one HDMI, one analog VGA, DVI-D with HDCP, composite video, S-video and component Y Pb Pr and four USB 2.0 ports. Up to six sources can be connected, such as computers, Xbox 360, PlayStation 3, Nintendo Wii, or HD players. According to Gateway, the video from all six sources can be up-sampled to 1600p.
In the mean time, Apple only went as far as DVI, 2x USB 2.0, 2X Firewire 400 and Dell stuck with DVI-D with HDCP.
The features list also includes the following:
– 6 ms refresh rate ( Apple – 16 ms, Dell – 12 ms)
– 176-degree viewing angles( Apple – 170-degree viewing angles, Dell – 178-degree viewing angles)
– contrast ratio of 1000:1 ( Apple – 700:1, Dell – 1000:1)
– brightness of 400 cd/m2. ( Apple – 400 cd/m2, Dell – 300 cd/m2)