Apple added the Multi-Touch functionality to the MacBook Pro, which enables the use of gestures the way people do with iPhone and iPod Touch. The new trackpad is already a feature in the MacBook Air.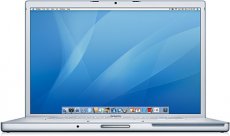 The MacBooks now feature the latest Intel Penyrn processors. The plain MacBooks offer the 2.1GHz and 2.4GHz options, while the MacBook Pro line will have the customer choose between 2.4GHz and 2.5GHz, plus the 2.6GHz upgrade.
New models (except the 2.1GHz MacBook) now come with a standard 2GB of SDRAM and can be upgraded up to 4GB. In the HDD department, MacBooks come with a storage space of 120GB, 160GB or 250GB. The 2.4GHz MacBook Pro features a shiny 200GB HDD and, last, but not least, the 2.5GHz MacBook Pro comes packed with a 250GB drive.
Additional feature in the new line up include:
– iSight video camera
– 802.11n wireless
– Bluetooth
– USB 2.0
– Firewire
– SuperDrive
– iLife '08
The basic MacBook costs $1,099 (the black model goes for $1,499). The MacBook Pro starts at $1,999 and goes up to $2,799, for the top configuration.