According to the company, the additions are new versions of the Ultr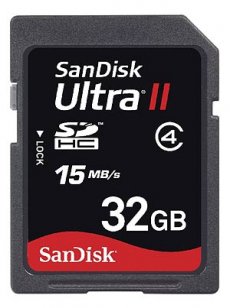 a II SDHC memory card and will come in sizes of 8 GB, 16 GB and 32 GB. Needless to say, the 32GB card, which can store up to 8000 10 megapixel images or 40 hours of standard definition video, will be the star of the show:
"As cameras offer more megapixels and as new high-definition record -to-memory-card camcorders are being introduced, the image sizes and files get bigger, requiring higher card capacity," said Susan Park, senior product marketing manager for SanDisk Ultra II cards.
The flash devices feature read and write speeds of 15 MB/s. The previous product generation had a read speed of 10 MB/s (read) and a write speed of 9 MB/s.
The 32GB SanDisk Ultra II SDHC card will have a retail price of $349.99. The 16GB card has a suggested price of $179.99, while the 8GB model will go for just $99.99.
The 16GB and 8GB cards are expected to be available worldwide in March, with the 32GB will make its debut in April.