The new 160GB HDD will be a 2-platter version and weighs 62 gra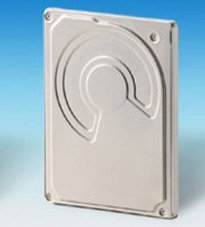 ms. Toshiba will also release a smaller one-platter 80 GB model, which weighs 60 grams. Both drives have the same dimensions (54.0 mm x 78.5 mm x 8.0 mm), will spin at 5400rpm and have a SATA 2.6 interface.
The company stated that the the idle power consumption of the 160 GB model is 0.9 watts, while the 80 GB model needs about 0.2 watts.
1.8" HDDs have been under a lot of fire due to the constant improvement of state disk drives (SSD), but it appears that some manufacturers are still willing to bet on the old-fashion format. Toshiba aims to place its new device on small PCs like UMPCs, MIDs or subnotebooks.
The company did not reveal the price of the upcoming devices but chances are that their price tags will feature an appealing-enough price. More details will pop out before the release of the drive this August.