The new model has a 10.2in display, the Intel Atom processor, up to 1GB of memory and a HDD ranging between 80GB and 160GB. The NC 10 Netbook features 802.11b/g Wi-Fi and Bluetooth, three USB ports and a 3-in-1 reader slot for Flash storage cards.
Additional features include a 1.3 mega pixel digital motio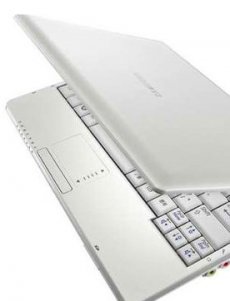 n camera, a normal-size, notebook PC style keyboard with an ergonomic design and a six-cell battery, which is supposed to offer up to eight hours of use.
"Through our extensive R&D network, we have gained a true insight into consumers' frustrations with these products, such as small keyboards and short battery life, which has been very valuable and has allowed us to develop a product we feel fits our customers needs," said Executive Vice President HS Kim. "Small and light, with the power and functionality for mobile working and web browsing, the NC10 delivers a true online experience from the palm of your hand."
Speaking of the keayboard, Smasung stressed out the use of Silver Nano Technology, which makes it impossible for bacteria to live and breed. 99.9% of bacteria are successfully eliminated within 24 hours and the netbook remains bacteria free for even longer, the company claims.
The Samsung NC10 will be available from October this year in European countries including UK, France, Germany, Spain, Italy and Netherlands, and also in Russia, China, Hong Kong and Korea.