The new additions are the G10, the SX10 IS, SD990 IS and SD880 IS models.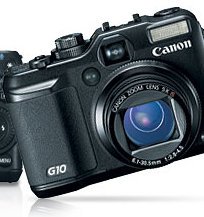 G10 is to become Canon's top product for the PowerShot line and was designed to replace the G9. The new camera will retail for $499.99. Its list of features includes a 28mm wide-angle lens, 5x optical zoom, 14.7 megapixel sensor, 3.0-inch LCD display, optical image stabilization and a dedicated Exposure Compensation dial
The SX10 IS is priced at $399.99. It has a 28mm – 560mm wide-angle lens with 20x optical zoom, 10 megapixel sensor, 2.5-inch LCD display and "MovieSnap" mode.
The SD990 IS' list of features includes 14.7 megapixel resolution, 3.7x optical zoom and "Quick Shot" mode for faster shutter speed, plus a price tag reading $399.99
Last but not least, the SD880 IS will cost $299.99 and has a 10 megapixel sensor and 4x wide-angle optical zoom and a 3.0-inch LCD display on the back.