The sequential read rate of the device will be of around 160 MB/s, the company added.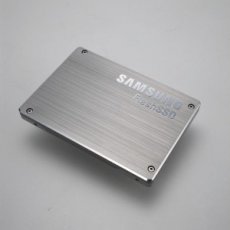 The announcement was made at Samsung Mobile Solution Forum in Taipei. According to the company, the new SSD will have a capacity of 256 GB and will come in both 1.8" and 2.5" versions. A smaller 128 GB model is also on the company's "to do" list.
The new drive is based on Samsung's multi-level cell (MLC) and will feature a SATA II interface.
The new SSD sounds promising if one only looks at these figures. However, Samsung hasn't uttered a word regarding the price of the device. At present time, 256 GB 2.5" SSD drives are priced around $7000, a sum which is likely to turn away most prospective buyers.
According to analysts, Samsung's price strategy revolves around the $1000 milestone. However, hopes that the device would go below this price are thin. So don't make any plans regarding a storage upgrade.