The LG model, dubbed Netbook X110, is made to pretty much resemble similar products like the Asus Eee PC and Acer Aspire in both terms of size and specs.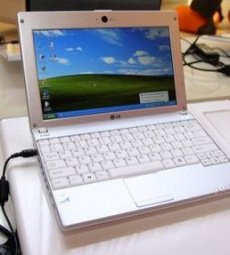 According to LG, the upcoming model will include the following:
– Intel's 1.6GHz Atom mobile processor
– 1GB memory
– 80GB HDD
– 10in display
– WLAN 802.11 b/g and 10/100 Ethernet
– Windows XP Home edition.
– 3G wireless capability (available only on several markets, not a general feature)
– three-cell battery pack
The Netbook X110 will weigh 1.2kg and will be available initially in two colors, white and pink. A third black model is to be released at a later time. It will retail for 399 euro.