The Barracuda 7200.11 1.5TB hard drive packs 1.5TB on just four platters and its fast Serial ATA 3Gb/second interface delivers an industry-leading sustained data rate of up to 120MB/second for fast boot, application startup and file access. The 3.5-inch drive is also offered in capacities of 1TB, 750GB, 640GB, 500GB, 320GB and 160GB with cache options of 32MB and 16MB.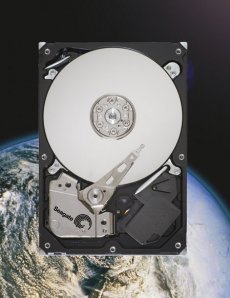 The notebook HDDs unveiled by Seagate are the 2.5-inch Momentus 5400.6 and Momentus 7200.4.The Momentus 5400.6, a 5400-rpm drive, combines a powerful Serial ATA 3Gb/second interface and capacities ranging from 120GB to 500GB with an 8MB cache.
The Momentus 7200.4 hard drive, features a7200-rpm spin speed and a Serial ATA 3GB/second interface, and comes in capacities ranging from 250GB to 500GB with a 16MB cache.
"Organizations and consumers of all kinds worldwide continue to create, share and consume digital content at levels never before seen, giving rise to new markets, new applications and demand for desktop and notebook computers with unprecedented storage capacity, performance and reliability," said Michael Wingert, Seagate executive vice president and general manager, Personal Compute Business. "
Both Momentus drives are built tough enough to withstand up to 1,000 Gs of non-operating shock and 350 Gs of operating shock to protect drive data. Also, they are offered with G-Force Protection, a free-fall sensor technology that helps prevent drive damage and data loss upon impact if a laptop PC is dropped. The sensor works by detecting any changes in acceleration equal to the force of gravity and parks the heads off the disc to prevent contact with the platter in a free fall of as little as 8 inches and within 3/10ths of a second.
Shipments of the Barracuda 7200.11 1.5TB are set to begin August 2008. Momentus 5400.6 and 7200.4 hard drives are to begin shipping in Q4 calendar 2008.