The next release features a very appealing hardware department: the list begins with an Intel Core 2 Extreme Quad Core processor and continues with Nvidia Quadro FX mobile graphics, optional dual hard drives with RAID configurations and up to 8 GB of high speed DDR3 memory.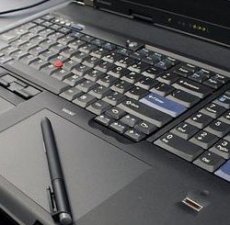 An optional Blu-ray DVD reader/burner and an optional finger-print reader are also part of the offer.
Also, the upcoming ThinkPad W700 will feature the first built-in digitizer and color calibrator. When all these specs are added, it becomes clear why Lenovo insists on calling the new machine a "mobile work station" and not a plain laptop.
"Lenovo has engineered a new breed of mobile workstation with the ThinkPad W700," said Peter Hortensius, senior vice president, Notebook Business Unit, Lenovo. "No other PC manufacturer has a mobile workstation that delivers the sheer power, performance and cutting-edge innovation that Lenovo has packed into the ThinkPad W700. The ThinkPad W700 mobile workstation flat out delivers the command performance our customers demand at the desk as well as in the field."
The ThinkPad W700 models will retail for a minimum of $2,978, with price going up as extra features are being added.