This bit of good news however is only destined for American ears as the price cut will only apply on the US market.
The model featuring Windows XP ( Home Edition) now retails for just $349. The notebook has an Intel Atom processor, 1GB of RAM, a 120 GB HDD, and a three-cell battery.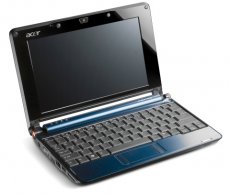 "The Aspire one is a breakthrough product that meets the connectivity needs of both students and mobile professionals," said Kristin Markworth, senior manager of notebook product marketing for Acer America. "By increasing the value of our mobile Internet device lineup, Acer is opening the Aspire one experience to a whole new base of users."

An improved version retails for $399 and features a six-cell battery, 160GB internal hard drive and Windows XP Home. As for the Linux-based version, this one is currently available at $329.
In the UK, the Aspire One still features a price tag of $369 (Linux version with 8GB NAND Flash) or $554 (Windows XP version, 80GB hard drive).