Both devices feature two hours of recording time, a high-resolution two-inch screen, and an AA rechargeable battery pack that can be recharged through the camera's built-in US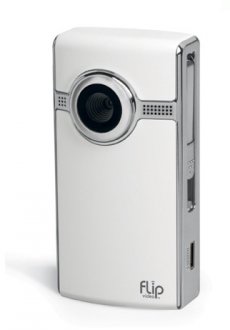 B arm. The two cameras come pre-loaded with FlipShare, the on-board software used for organizing, editing and sharing videos.
"The original Flip Ultra changed the way the world captures and shares video by making it easy, accessible, and, most of all, fun," said Jonathan Kaplan, chairperson and CEO of Pure Digital. "Our new Flip UltraHD takes this to the next level by making it incredibly simple and affordable for anyone to capture and share hours of video in stunning HD."
The Flip Ultra is available in black, white, yellow and pink and retails for $149. The Flip UltraHD is priced at $199 and is available only in black and white.
Flip Ultra Camcorder Features:
– Video Resolution: 640 x 480
– Records: 2 hours (4GB built-in memory)
– Screen: 2 inch – transflective (anti-glare)
– Batteries: 2 x AA (optional rechargeable AA battery pack sold separately)
– TV Output: SD Composite Video
– Zoom: 2 x Digital
Flip UltraHD Camcorder Features:
– Video Resolution: High Definition, 1280 x 720
– Records: 2 hours (8 GB built-in memory)
– Screen: 2 inch – transflective (anti-glare)
– Batteries: 2 x AA (rechargeable AA battery pack included)
– TV Output: Widescreen with HDMI™ output
– Zoom: 2 x Digital