The camcorder's built-in GPS antenna and NAVTEQ d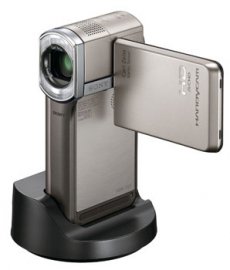 igital maps enable the user to geo-tag his videos and photos and therefore document his destinations on a map. Geo-tagged content is marked by a push pin at each shot location and can be played back on the camcorder map index display on the 2.7-inch wide LCD touch panel.
The HDR-TG5V Handycam camcorder captures 1920×1080 high-definition video and 4 MP photos. Under the hood, the camera packs 16GB of embedded memory, which translates into over six hours of high definition video footage (LP mode).
"Travelers are looking for high-quality products that focus on performance and portability," said Kelly Davis, director of camcorder marketing at Sony Electronics. "This new model has a titanium body with a premium hard coating enhancing durability and it's packed with high-performance features—like GPS and Smile Shutter™ technology—that deliver the best combination for your travel experiences."
The HDR-TG5V camcorder will ship in May for about $1,000. An optional travel kit (Sony ACC-TCH5) with a battery, travel charger and pouch will be available for about $100.