The new pocket cam is 100 mm x 55 mm x 16 mm has weighs 84g (battery included). Vado Pocket Video Cam has a memory size of 2 GB, a built-in USB connector for PC and can record around 120 minutes (good quality) or 60 minutes (excellent quality).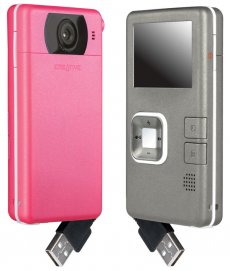 The videos are recorded at 30 frames per second and have a 640 x 480 resolution. The battery will last 130 minutes in the beginning.
"The Creative Vado makes shooting and sharing video as easy as taking pictures with a point-and-shoot portable digital camera. It's so small and lightweight that you can have it in your pocket so it's always there, or you can just set it on your coffee table so everyone in the family can use it. It's always ready to capture spontaneous moments that are once in a lifetime, the type you can't plan for in advance," says Craig McHugh, Creative's President and COO.
The list of feature also includes:
– Slim, lightweight, pocket-sized design
– Built-in two-inch color LCD screen
– Removable rechargeable battery
– Built-in software program for posting videos to YouTube or Photobucket
– Enable friends and family to download your videos from Box.net
– Available in silver or hot pink
The spare batteries for the cam are priced at $14.99, the power adapter with charging station goes at $29.99 and the A/V cable for sharing your Vado video on your TV screen – $9.99