The company has release 2 HDD models with capacities at 320GB and 500GB, while another 360GB is scheduled to hit the market this September.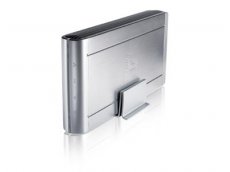 "There are an estimated 30 million homes in the United States with multiple computers. Iomega's new Home Network Hard Drives are designed for these families, providing a simple, reliable source of network storage that makes it easy to organize and share files. Many computer users want the basics at a fair price; they don't need complicated features and they don't want to pay for capabilities they may not use. The Iomega Home Network Hard Drive is the answer to their home networking needs and can potentially create a consumer mass market in this exciting product category."(Tom Kampfer, president and COO, Iomega Corporation)
The new models feature 7200 RPM SATA-II hard drives with 8MB cache, include a USB 2.0 port and are based on 10/100 Ethernet technology. The compatibility list includes the following OSs:
– Windows 2000 Professional
– XP Home/XP Professional/XP Professional x64
– Windows Vista Home Basic/Home Premium/Business/Ultimate
– Mac OS X 10.2.7 or higher
– Redhat 9
– Mandrake 10
– Debian 3.0
– Gentoo
– FedoraCore 3
The 320GB Iomega Home Network Hard Drive retails for $149.00, while the 500GB model is available for $199.00. The price tag of the 360GB HDD will read $149.00.