The previous "largest" title was held by Creative's Zen and Apple's iPod Touch, both players featuring 16GB of storage.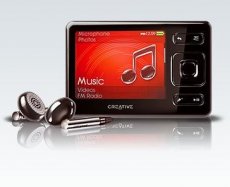 The current 32GB model can store around 8,000 songs or 120 hours of video, with the battery life supposed to be around 25 hours of continuous music playback or 5 hours of video.
The rest of the player's features are more or less the same present in previous models:
– 2.5" High resolution color TFT display (320 x 240 pixels, 16.7 million color support)
– support for MP3, WMA, non-protected AAC, WAV and Audible 2,3 and 4 audio formats
– support for MJPEG, WMV9 and (with transcoding – MPEG1 and 2, MPEG4-SP, DivX 4 and 5 and XviD) video formats
– FM radio with 32 presets
– 8 EQ settings (Acoustic, classical, disco, jazz, new age, pop, rock and vocal)
– customizable main menu
The 32GB Zen player will first be launched in Singapore in mid-December and will retail for $379. No release date has been unveiled for the US, although potential shoppers have been informed about the price: $329.