In addition, the new USB will be optimized for low power and improved protocol efficiency.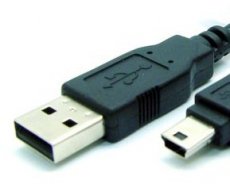 "USB 3.0 is the next logical step for the PC's most popular wired connectivity," said Jeff Ravencraft, technology strategist with Intel and president of the USB Implementers Forum (USB-IF). "The digital era requires high-speed performance and reliable connectivity to move the enormous amounts of digital content now present in everyday life. USB 3.0 will meet this challenge while maintaining the ease-of-use experience that users have come to love and expect from any USB technology."
USB 3.0 will be based on the same architecture of wired USB and its ports and cabling will be designed to enable backward compatibility. Its first implementations will be in the form of discrete silicon.
The war between HD DVD and Blu-ray hasn't gone unnoticed; the interface of the USB 3.0 is said to be designed so it cold be able to deal with digital media file sizes that are likely to exceed 25 GB.
The USB 3.0 Promoter Group includes Intel, HP, Microsoft Corporation, NEC Corporation, NXP Semiconductors and Texas Instruments Incorporated.
A completed USB 3.0 specification is expected to be released in the first half of 2008.