The "Nano alternative" marketing plan is clear right from the start: the Sansa View will retail at the same price as Apple's device, but its storage space offer will be double than its competitor's. The $199 8GB iPod Nano will be matched by a 16GB Sansa View, while the $149 4GB Nano will compete against a 8GB SanDisk player.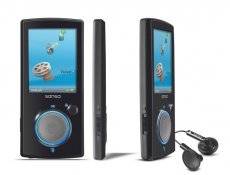 The Sansa View also wins when it comes to battery life: it lasts around 35 hours of music and 7 hours of video, while the Nano only goes as far as 24 hours of music or 5 hours of video.
Should storing space still be a problem, users will be able to use SanDisk microSD/microSDHC cards (capacities of up to 8GB) and thus raise the capacity of the player to a maximum of 24 GB.
The Sansa View includes a digital FM radio with 20 pre-sets, a 2.4" TFT color screen with 320×240 resolution and voice recorder with built-in microphone. Audio support includes most audio formats ( MP3, WMA, WAV etc), it plays videos in MPEG4, WMV, H.264 and DivX formats (video playback at 30 frames per second) and it has JPEG viewing capabilities.
The Sansa View will be released in the U.S. in early fall.