The company stated that under certain conditions the new ultracompact Apple USB power adapter's metal prongs can break off and remain in a power outlet, creating a risk of electric shock. No injuries have been reported.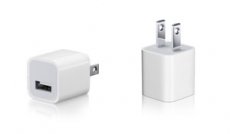 The faulty ultracompact USB power adapters were sold in US, Japan, Canada, Mexico and several Latin American countries. Apple USB power adapters supplied with original iPhones or supplied with iPhone 3G units sold in other countries are not affected.
Apple will replace the faulty devices with new, redesigned adapters, free of charge.
Users who have an ultracompact adapter with a green dot on the bottom need not to participate in this exchange program as they already have a new adapter.
Replacement adapters will be available starting Friday, October 10, 2008. Further information on the program is available here.