The 128GB MLC-based SSD features a 3.0 gigabit-per-second interface and consists of 64 MLC NAND flash memory chips of 16 gigabits each. It measures 100mm x 69.8mm and is only 9.5mm thick.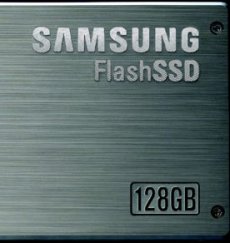 The new devices will feature a write speed of 70 MB/s and a read speed of 90 MB/s. Not very impressive, if one were to compare them to the single-level-cell (SLC)-based SSDs and its read speed of 130 MB/s.
In addition, Samsung announced that the new generation of SSDs will come at a "more attractive" pricing, but did not disclose any actual figures.
"With the 64 GB and 128 GB MLC SSDs, we are satisfying the density requirements of most business users and many PC enthusiasts, who will appreciate not only the performance gains and added reliability, but also the more attractive pricing," said Jim Elliott, vice president, memory marketing, Samsung Semiconductor, Inc.
So Samsung still has a long road ahead it the tech department before matching up to current devices. Perhaps its price policy will be a major plus and inspire buyers to still go for the new SSDs. But what else does it offer?
One star feature on the list is the drive's expected life, with Samsung claiming that it's supposed to last 20 times more than the 4-5 year life span of a notebook PC hard drive. So they should hold for around 80-100 years.