The company's laptops now feature an Intel core 2 Duo processor, running at 2.0GHz or 2.2GHz. The need for speed is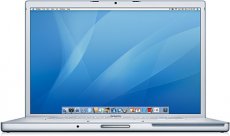 even higher when it comes to the MacBook Pros, which now feature a 2.6GHz CPU and an extra $250 on the price tag.
Changes have been made in the graphics department too. The laptops have been equipped with Intel GMA X3100 graphic processor. Furthermore, Apple's machines now ship with with hard drives of up to 250GB (5400 rpm) and there's an option to upgrade the standard 1GB (667MHz DDR2) SDRAM to 4GB. Upgrade cost vary depending on the model.
The standard new MacBook features a 2.0GHz Intel Core 2 Duo, 1GB memory and 80GB hard drive. It retails for $1,099, with the 4GB memory upgrade set at $850.
In the mean time, the Macbook Pro comes packed with 2.2GHz Intel Core 2 Duo, 2GB memory, 120GB hard drive and NVIDIA GeForce 8600M GT graphics card. It retails for $1,999 and the memory upgrade is $700.