The new SSDs feature a sequential write speed of 100 MB/sec and sequ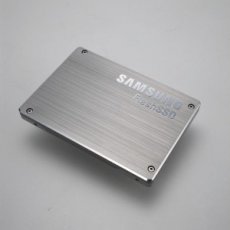 ential read speed of 120 MB/sec. The previous Samsung 64GB version (launched back in June 2007) has a write speed of 45 MB/sec write and a read speed of 65 MB/sec.
The company's first-generation 32GB SSD (March 2006) has a write speed of 30 MB/sec write and a read speed of 53 MB/sec.
"The 64GB SATA II SSD is based on Samsung's cutting-edge NAND technology with dramatically improved performance specs that are taking system performance to a whole new level of efficiency," said Jim Elliott, director, NAND flash marketing, Samsung Semiconductor, Inc.
According to Samsung, the new devices use 8Gb, 50nm single-level-cell (SLC) flash memory chips and will come in two versions: 1.8-inch and 2.5-inch. The power consumption of the new drives is rated at 1.9 watts.
Samsung is currently sampling the new SATA II SSDs, with production examples supposed to appear in early 2008.