The paragraph in PC World's review that got every Apple fanboy cheering reads the following:
"Equipped with a 2.4-GHz Core 2 Duo T7700 processor, the maximum 4GB of RAM, a 160GB hard drive, and nVidia's new top-of-the-line notebook graphics card, the nVidia GeForce 8600M GT, our $2949 test unit set new speed records (as of 11/23/2007). The MacBook Pro outperformed the rest of the notebooks we tested, all of which claim Windows as their primary–nay, their only–operating system. We loaded Windows Vista Home Premium on the Apple notebook, and it snagged a WorldBench 6 Beta 2 score of 88. In games it achieved a blazing frame rate of 141 frames per second in Far Cry (with antialiasing turned off)."
So the Mac scored an 88 on its WorldBench 6 Beta 2 benchmark. The best score, the reviwer claims. Too bad she's wrong and, most ironically, she's the one to prove it. The Eurocom D900C Phantom-X laptop leaves the MacBook Pro far behind, with a 97 score on the same benchmark: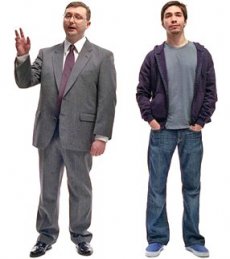 "Our review model came with a 2.66-GHz Intel Core 2 Quad Processor Q6700 including a 1066-MHz frontside bus, 4GB of RAM, and a 512MB nVidia GeForce Go7950 card. It earned a record-setting WorldBench 6 Beta 2 score of 97, a mark 29 percent higher than the average score of 75 earned by 17 recently tested desktop replacements. It blew through office applications such as Word and Photoshop, and was especially fast at burning discs in comparison with other dual-core notebooks. For example, in disc burning it was twice as fast as a top-performing 2-GHz Core 2 Duo-equipped laptop, a Dell Inspiron 1720. The Inspiron 1720 needed 15 minutes to finish the task, while the D900C Phantom-X required only 7.5 minutes. In gaming, the Eurocom's speed enhancements were less dramatic but still good for a desktop replacement, as the D900C Phantom-X averaged frame rates of 137 and 114 for Doom 3 and Far Cry, respectively. The price of all this speed, however: a meager battery life of 1 hour, 17 minutes."
So, do we have a case of false advertising? We were just wondering: will the next Apple commercial begin with "I'm a Mac. I lie"?