The basic model of the Sansa slotMusic Player will retail for $19.99. SanDisk will also offer personalized, branded slotMusic players for popular artists (Robin Thicke and ABBA), which will cost $34.99.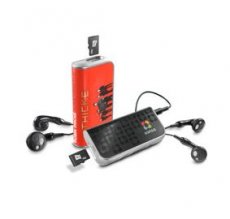 Aside from the branded name itself, the more expensive models also include a pre-loaded album on a 1GB1slotMusic card and additional content such as liner notes, album art and other content chosen by the artist.
"With no need for computers or cords, the Sansa slotMusic Player gives consumers more time to play, and less time to worry about managing or downloading their music," said Daniel Schreiber, senior vice president and general manager for SanDisk.
The new player is compatible with both SlotMusic or microSD cards, plays music encoded as MP3 and WMA (DRM-free only) files. The branded pack includes a customizable black shell, earphones and battery.
The Sansa slotMusic Player has the following dimensions: 2.75" W x 1.4375" H x 1.4375" D.
SanDisk stated that the new player should become available worldwide in in 2009.