According to the official announcement (posted on the developer's
site
), the Microsoft – GSC Game World agreement would provide the latter with all the necessary development tools, plus some support from Microsoft so that the development process would go as smooth as possible: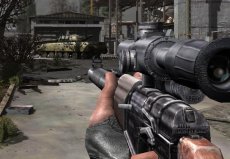 "We are happy to say the big efforts of our company aimed to obtain the official Xbox 360 developer status now ended with success. Obtaining such a status for an independent developer based in ex-USSR means a lot – it took us over 2 years to get. We are very thankful to Microsoft for the assistance and high esteem of our team's professionalism," said Sergiy Grygorovych, the CEO of GSC Game World. "Creating games for PC, we achieved practically everything, and now are prepared to garner the top spots in sales charts and gamers' recognition in the world of console games too."
Right now, the only question on everyone's mind goes as follows: will STALKER end up on Microsoft's console? The developer is as tight lipped as possible for the time being, but it's hard to believe that the golden goose will remain a PC-only version.
From my point of view, the following would be a much better question: will the Xbox 360 version of STALKER take as much time to be completed as the PC game?