The first announced feature of the event will be a 72-hour Play & Win Sweepstakes. Guitar Hero wannabes will battle in a multiplayer showdown against the developers of the game and winners will be awarded with special prize packages, such as a limited edition guitar faceplate signed by Slash. An exclusive Xbox LIVE leaderboard tournament will also be put into place, to crown the top Guitar Hero player.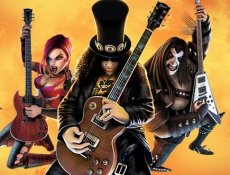 But until the weekend starts off, Guitar Hero fans get another musical cookie, in the form of a free game demo. The demo is already available on Xbox Live and features five songs:
– Even Flow (by Pearl Jam)
– Lay Down (by Priestess)
– The Metal (by Tenacious D)
– Hit Me with your Best Shot (as made famous by Pat Benatar)
– Rock You like a Hurricane (as made famous by Scorpions)
What's left to say? Get the demo and improve your skills if you want a good spot on the leaderboard.
Guitar Hero III: Legends of Rock was developed by Neversoft and will be released October 28, 2007 on PlayStation 2, PlayStation 3, Xbox 360 and Nintendo Wii.