The leaked version is an early build of Manhunt 2 for PlayStation 2.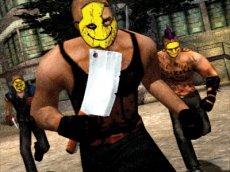 The matter has now been cleared up by a Take-Two statement, quoted by Game Politics:
"Take-Two Interactive has confirmed that a former employee of Sony Computer Entertainment Europe (SCEE) has acknowledged his responsibility for the unauthorized online distribution of an unrated play-test version of Manhunt 2 submitted for the European PAL PlayStation 2 computer entertainment system."
The statement ends here and would not say anything about who the person is and how did he or she managed to rip the code. Also, there's no word on how was the mysterious leaker caught red handed and what legal trouble awaits him/her.
One would say that it's a most unfortunate situation. Then again, it's also a most convenient situation. The release of Manhunt 2 has been the subject of a long delay. The game barely made it to an M rating in the US and is still banned in the UK.
Manhunt will be released on October 31. Suffice to say that someone needs to build up some hype.