Tetris Splash will become available for download this Wednesday with a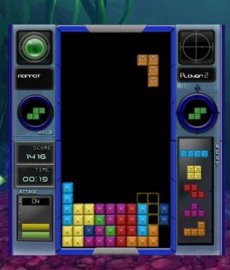 price tag that reads 800 Microsoft points.
The features list includes as follows:
– Modes of play: Three different modes of play including Tetris, T-Spin, and Combo, plus a unique screensaver mode.
– Multiplayer: Playable solo, competitively or in teams, with an online multiplayer mode via Xbox Live for up to six players.
– New twists: New, enhanced graphics, and beautiful aquatic backscapes add a real splash to the fun of Tetris.
– Content and themes: Exciting downloadable content will be made available including themes and background aquatic creatures.
– Achievements: Twelve new achievements to master and conquer.