The story goes like this: UK retailer Argos somehow managed to put Halo 3 on the market one week before the official release date. According to the retailer PR's team, tis happened due to an administration error on its website: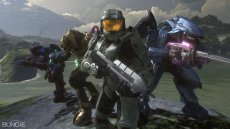 "[…] we are aware that a genuine administrative error has resulted in a small number of cases where Halo 3 has already been sold. We are currently ensuring that there are no further sales of this product in-store until the official release date, Wednesday 26 September."
As it followed, Microsoft took the news hard and promised that anyone caught playing Halo 3 before the official release date would have his Xbox LIVE account banned. Later on, somebody finally realized that the company was basically saying "Thanks for buying our game, now leave it alone until we say otherwise!" and came back with a new statement:
"We can confirm that Microsoft is not taking any action (such as banning Xbox Live accounts) against gamers who are playing Halo 3 before the official street date. Any rumors or speculation to the contrary are false."
Officially, the Halo 3 mania starts on September 25 in North America. Europe will follow one day later and Japan is last on the list, on the 27.