The game will be released this October on PC, PlayStation 3 a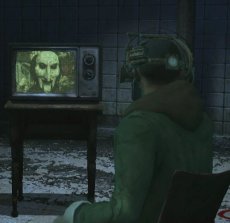 nd Xbox 360. Incidentally (yeah, right) the game will be released at the same time Saw IV hits the silver screen.
Konami (well-know for its Silent Hill series) bought the rights for Saw from the now-bankrupt Brash publisher but surely took some time before making any official commitment:
"Because we have leadership in the survival horror genre, we're passionate about it and wanted to find another property on par with 'Silent Hill," said David Daniels, director of marketing for Konami during an interview for Variety. "'Saw' has grossed over $600 million worldwide and sold over 28 million DVDs, so we felt like it was a great opportunity to align ourselves with one of the most successful horror film franchises in history."
According to Daniles, players can expect some traps to be directly imported from the movie, because fans love them so much (and the writers have less to worry about when penning the script).
The upcoming game will turn Jigsaw's traps into puzzles and will leave players the liberty of choosing how to solve them. That is, if they think they have to solve them.