According to publisher Deep Silver, the delay has everything to do with a nasty printing problem: the boxes prepared for the American release don't have a CD-key, or, at least, most of them don't. As it follows, the publisher had to recall the entire lot and issue orders for a new re-packing session.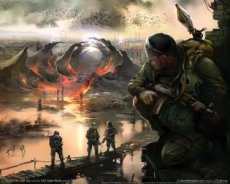 A new date has yet to be officially announced. Rumor has it that the release is scheduled for September 15.
The European release schedule won't be affected. The game will hit the shops on the Old Continent on September 5.
In case you have forgotten, the hardware requirements for the game were everything but friendly:
– Processor: Intel Core2 Duo E6700 / AMD 64 X2 5200+
– RAM: 2 GiByte – 10 GByte free hard drive space
– 512 MiByte Direct X 9.0c compatible graphics card / GeForce 8800 / Radeon X2900