The official announcement is quite clear: leave only hope for a fair game behind, this one's about total ice-nnihilation:
"Hockey lovers, there's no need to reference the rule book in this game as you tear up the ice with NHL's top players and win big with big hits. Go ahead and challenge your friends in one-on-one matches via Xbox LIVE and tally your wins to earn bragging rights with your opponent…and your sweetie."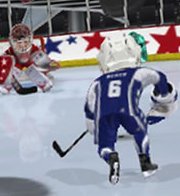 The list of special features introduced in 3 on 3 NHL Arcade is down below:
– Power-ups: When you see a giant skating down the ice, you'll realize this is not traditional hockey. With eight different power-ups, from speed skating to giant goalie, on-ice mayhem is the only guarantee.
– Online game modes: Play against a friend one-on-one online or with up to three players a side. With leaderboards and ranked/unranked match options, 3 on 3 NHL Arcade is an experience best shared.
– Button controls: 3 on 3 NHL Arcade features two separate control schemes, the Skill Stick featured in the past three NHL titles, and all-new button controls. With everything mapped to the face buttons, including all-new trick moves, players of all skill levels will be able to jump right into the action.
– Trick moves: The new control scheme introduces trick moves and spin moves to the world of NHL. Spin out of the way of an oncoming check before batting the puck out of the air and past a diving goalie.
– Unique presentation: Bright lights and big heads make their way to the NHL franchise. Featuring exaggerated player looks, and a miniature rink, the game boasts a unique and lighthearted tone throughout.
– Player types: 3 on 3 NHL Arcade splits 40 of the top NHL players, representing every team in the league, into three distinct player types. Fast players specialize in dangling, Strong players bring extra power to their hits, and All-around players play a solid two-way game of hockey.
– Hard checking: The all-new physics-based checking engine introduced in NHL 09 makes a return in 3 on 3 NHL Arcade with one slight difference, every hit is huge. Hit a guy just right and don't be surprised to see him fly across the length of the ice.
The game was developed by EA Sports and will hit the ice on February 11 at 9 a.m. GMT. It comes with a price tag reading 800 Microsoft Points.