Xbox 360 fans will be the most spoiled of the gaming pack: their version of Guitar Hero World Tour will enjoy a two-week exclusive for three R.E.M. songs from "Accelerate", the last album of the band: "Horse to Water," "Man-Sized Wreath," and "Supernatural Superserious".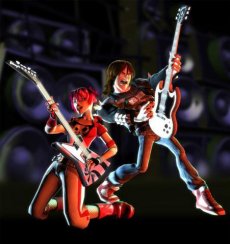 The three songs will envetually become available on the PlayStation Network on November 13.
Aside from this sort-of-disputed trio, both console owners will be able to buy, download and play the following tracks:
– Blind Melon – "No Rain"
– Foreigner – "Hot Blooded"
– Boston – "Rock and Roll Band"
– Rick Springfield – "Jesse's Girl"
The songs will be available separately, but the last three will also be packed under a "classic rock track" label.
Guitar Hero World Tour will be released on October 26.