The latest PoP game will have the Prince caught in an epic battle between the primal forces of light and darkness: the God of Light, Ormazd versus his brother Ahriman, the destructive God of Darkness. The fight between the two gods will result in the destruction of the legendary Tree of Life – an act which threatens to plunge the entire world into eternal darkness.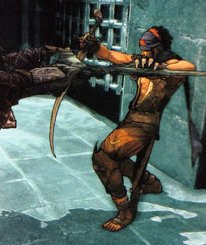 Now, the Price must team up with the magician Elka to heal the world from the evil Corruption, a dark substance that physically contaminates the land and the skies.
The game will be released on Xbox 360, PlayStation 3 and PC. The console versions will retail for $59.99, while the PC game will be just $49.99.
The game is still available for pre-order, neatly packed with a special offer including the following:
– Collectable Limited Edition packaging
– An exclusive look at the making of Prince of Persia
– A Prima® digital mini-strategy guide full of developer's secrets to help players master the year's best action-adventure game
– A digital art book that chronicles the game's journey from concept to winner of Best Artistic Design at E3 2008
– The original soundtrack scored by master composer Inon Zur