The demo will consist of the entire first level in Crysis' single player campaign, "Contact". As expected, the demo will undoubtedly focus on the "stunning visuals", mixed with open-ended level design. The "revolutionary" Nanosuit gameplay is also part of the deal. Hopes may be high, but don't forget that PR talk is still PR talk.
Electronic Arts' announcement also mentions a "huge surprise from Crytek" as part of the demo. Needless to say, the publisher wouldn't comment further on the subject.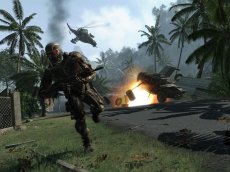 In case you have forgotten, the story in Crysis starts with the discovery of a mysterious artifact uncovered by a team of U.S. archaeologists. The North Korean government seized the area, thus forcing the U.S. to dispatch an elite team of Special Forces operatives to rescue the hostages. Still, this is just the beginning, as the artifact in question somehow a massive-scale alien invasion on Earth.
Here are the lists of game requirements (both minimum and recommended):
Minimum Requirements
– CPU: Athlon 64 3000+/Intel 2.8ghz
– Graphics: Nvidia 6600 or ATI X1600 – Shader Model 2.0
– RAM: 1GB
– HDD: 6GB
– Internet: 256k+
– Optical Drive: DVD
Recommended Requirements
– CPU: Dual-Core CPU (Athlon X2 / Pentium D / Core 2 Duo)
– Graphics: Nvidia 7800GT or ATI X1800XL Pro (SM 3.0)
– RAM: 1.5GB+
– HDD: 6GB
– Internet: 512k+ (128k+ upstream)
– Optical Drive: DVD

Crysis will hit the shelves on November 16.