The news was brought by The Force Unleashed's project lead Haden Blackman, during a GameTrailers
interview
.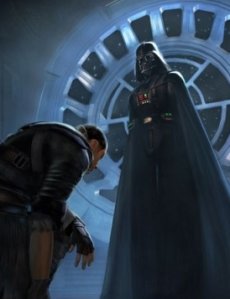 According to Blackman, players will take control of Vader right at the beginning of the game, when the asthma sith lord goes to a remote planet and stumbles upon his next apprentice. And yes, Force Crush (Vader's personal trademark) will be part of the game, as it was on at least one other SW-based title (KotOR II would be an example, but I'm sure there are others as well).
As you may already know, Star Wars: The Force Unleashed is supposed to cover at least a bit of the the blurry period between Star Wars: Episode III Revenge of the Sith and Star Wars: Episode IV A New Hope. Luke Skywalker is busy being a farmer's kid at the time, so the player will have to take the role of Darth Vader's "Secret Apprentice"and do his best to clean the galaxy of all the remaining Jedi.
The game will be released on all the available consoles: PlayStation 3, Nintendo Wii, Xbox 360, PlayStation 2, PSP and Nintendo DS.