The current delay only affects PC and Xbox 360 versions, while the PlayStation 3 release is still on track for September 17.
Midway wouldn't go any further regarding to the delay, leaving everyone to freely speculate on the reasons.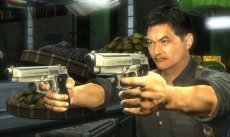 Stranglehold has been promoted as the interactive sequel to Hard Boiled, John Woo's classic Hong Kong film. In Stranglehold the player takes up the role of Inspector Tequila (played by Chow Yun-Fat in John Woo's movie), a policeman forced to forget all about the law and "cross the line from sworn duty to bloody revenge". The game promises"intense cinematic gun battles" and "massive environmental damage in real-time". The slow-motion Tequila Time is supposed to be the icing on the cake.
Xbox users can check out Stranglehold's demo, available on the Xbox Live Marketplace. As for PC gamers, they can just as well look for their Max Payne copy, as the new game sounds very familiar to the afore-mentioned one: John Woo, good cop turned bad, slow-motion mode…it's pretty clear now, isn't it?