According to NPD's data, the land of PC games is still an E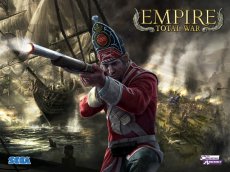 mpire (some pun intended), while the traditional competition has to settle for the other places in the top.
World Of Warcraft: Wrath of the Lich King got the silver medal and keeps taunting The Sims 2 Double Deluxe, which got only the bronze. Warhammer 40K: Dawn of War II is fourth and Command & Conquer: Red Alert 3 has taken a huge dive and is now on the last step of the ladder.
The only interesting entry this week is at number nine: Mystery Case Files: Return to Ravenhearst, easy to spot in the usual mix of WoW, Sims 2 and Spore.
1. Empire: Total War
2. World Of Warcraft: Wrath of the Lich King
3. The Sims 2 Double Deluxe
4. Warhammer 40K: Dawn of War II
5. World Of Warcraft Battle Chest
6. World Of Warcraft
7. The Sims 2 Apartment Life
8. Spore
9. Mystery Case Files: Return to Ravenhearst
10. Command & Conquer: Red Alert 3