Needless to say, the nice and round figure was reached sooner due to the recent price cut performed by the company, with the entry-level ERP for Xbox 360 going down to €179/£129.99.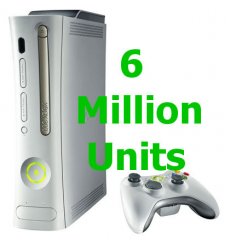 "We're very excited that more consumers in Europe are joining the ever-growing Xbox 360 community," said Chris Lewis, Vice President, Interactive Entertainment Business EMEA. "We're supporting this momentum by putting launch-level investment into a European advertising campaign, launching this week, which shows how Xbox 360 is changing the way consumers experience entertainment."
The price cut took place last Friday, on September 19. Since then, the list of Xbox 360 prices goes as follows:
– the 60GB HDD Xbox 360 now retails for €239.99/£169.99
– the Xbox 360 Elite, (120GB HDD) has an ERP of €299.99/£229.99
– the Xbox 360 Arcade console, retails for €179/£129.99.