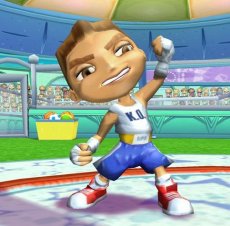 The has been designed to take up the role of "ultimate party play experience" and features various playground games such as Dodgeball and Tetherball. A single-player campaign has also been included, with the crown, scepter and throne of Playground King awaiting quietly in the end.
"EA Playground has been designed to be accessible and fun, making it the perfect game to enjoy by yourself or with your friends and family. Young, old, male or female, this is a game that expands the appeal of videogames to a market of non-traditional gamers. For kids it's about indulging in the energy and magic of the playground; for parents or even grandparents, it's about re-experiencing childhood thrills." (David McCarthy, Executive Producer)
Although the price seems to be the same for both the Nintendo Wii and the DS versions ($39.99), the two releases are rather different in terms of featured games and their number. The Wii version includes only 7 games (there will be 9 on the DS) and, unless an updates occurs until the release date, Dodgeball and Kicks will be the only games featured in both versions.
Playground games for Nintendo Wii:
– Dodgeball – Take on your opponents in an attempt to knock them out of the game in this fast paced multi round experience. Up to four players can dodge, catch and throw lighting fast balls just like in real life.
– Paper Racers – Throw and navigate your paper airplane through challenging Playground courses, collecting power ups and other bonuses along the way in a race to the finish line.
– Kicks – Take on your opponents in this fresh new experience where Soccer meets volleyball and goals are the result of spectacular aerial kicks!
– Dart Shootout – Test your accuracy skills in this exciting game that has your shooting and ducking your way through the playground to the final boss battle.
– Wall Ball – Enjoy this fast paced game of wall ball where the speed of the ball increases with each powerful shot. Strategically choose where you want to hit the ball and watch it rapidly ricochet by your opponent!
– Slot Car Racing – Take on up to three opponents in this speedy slot car racing experience that has you flying through ramps, landing mega jumps and even getting a chance to zap your opponents off course!
– Tetherball – Go head to head against your opponents in this tension mounting experience. Try to wrap the tetherball around the pole before your opponent does.
Playground games for Nintendo DS:
– Dodgeball – Knock all the other kids out of the game (by beaning them with a ball) before they do the same to your team.
– Hoops – Become the master of the basketball court while you try and score the most points.
– Hopscotch – Test your rhythm and timing with this musical game of Hopscotch.
– RC Racers – Race mini cars around an action-packed track, picking up valuable power-ups along the way.
– Bug Hunt – You're on a mission to collect as many butterflies as you can but watch out for those nasty bees or you'll get stung!
– Kicks – A free for all Soccer match where the objective is to score more points than your opponent
– Skate & Sketch – Master these wacky tricks by connecting the dots as fast as possible.
– Spitballs – Search the playground for your target and when you've found them blow into the microphone to hit them with a spitball!
– Trampoline – The sky's the limit in this game of balloon popping! Jump as high as you can and pop as many balloons as possible before your opponent