Once they enter the weird world of Geon players will have to give in their current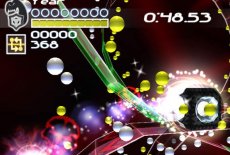 mood and play as one of eight emotions: Rage, Passion, Fear, Envy, Rapture, Courage, Bliss or Melancholy.
The game is an arcade, so basically you'll have to expect the same requests present ever since the genre was invented: race through the world, collect small pellets called 'E-motes', use power-ups and score a certain number of goals (5, to be exact) to be the winner.
The single player game mode will have players take their pick between two challenges. They can either perfect their skills in a head to head duel or face the challenge of a "time attack". In the end, they win medals used to unlock the eight mini games included.
As for the multiplayer part, gamers will be able to compete against each other in a split screen game or choose their victims on Xbox Live, where up to 4 players can join.